Barnham Post Office & Stores, Yapton Road and William Chandler, Postmaster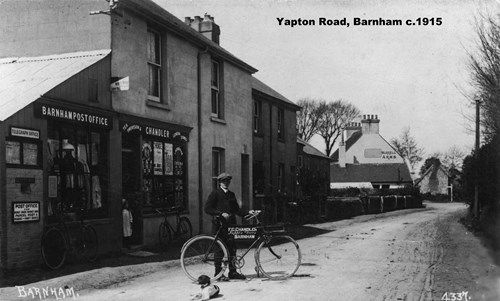 Harry Dart, in his memoir, recalls "There was a small local general shop combined with the Post Office – now part of Cherry Tree cottages opposite the school – the owners being two elderly sisters named Carpenter. We children were cheerfully served with sweets in little paper cones when we had been given a ha'penny to spend."
In 1909 Frederick George Chandler took over the store and the position of Postmaster. The store was extended to include a drapers and a 'public call office' was opened in 1920. Fred Chandler retired in 1945 and his son William took over as Postmaster. Between them they spanned an era of 57 years in this role.  In 1946 William moved the post office business to his new home, The Poplars opposite the stores in Yapton Road where business continued until his retirement in 1966.
Three houses called Cherry Tree Cottages now stand in place of the extension to the store and an adjoining house is called The Old Post Office as a reminder of those times. The Post Office business moved into various premises in the commercial centre of the village and is currently within the Barnham Trading Post store.
Will Chandler was one of the earliest pupils of Barnham School which opened in 1906.  The family had lived locally for many years, his parents moving to Barnham from Arundel and his grandparents keeping a grocer's shop in Yapton.  He was a sociable member of the community; the Sussex District Treasurer of the English Folk Dance and Song Society and a founder member of the Martlet Sword and Morris Men.  He was also the Clerk to the Parish Council and a member of the choir at St George's Church, Eastergate.
To anyone researching the history of Barnham he will be remembered and thanked for his scrapbook started in 1949 and continued through to his retirement.  It was added to by the Barnham Women's Institute who held the scrapbook until 2010 when it was deposited at the West Sussex Records Office.  Amongst other things, the scrapbook contains photographs and information, often handwritten, about the old primary school, the parish hall, the nurseries, smallholdings, Marshall family, the Methodist church and railway station.  It is thanks to William Chandler's interest in the village and villagers that we have such an informative and valued resource and thanks to the Barnham W.I. that the scrapbook is available for perusal at the West Sussex Records Office (ref: AM361/1).
Sandra Lowton
May 2016