World War Two – 75th Anniversary 2020
The 75th anniversary of the end of WWII has prompted me to look at what I have collected in respect of local history. I begin with a photograph of a VE day children's party. This photo was deposited at the Aldingbourne, Barnham and Eastergate Church Parish Office in Barnham by Roger Bennett:

In 2014 it was suggested that I interview older residents of Barnham, Eastergate and Aldingbourne who had lived in the villages through the Second World War. With consideration to the age of these villagers, I set about this in an informal manner and was referred from person to person. The number of interviews was limited and of course people's memories are selective and not always accurate but I feel that their personal nature is an important contribution to the history of the locality. These history pages are not definitive and if anyone wishes to add to them, please contact the parish council. The notes are attached and, in no particular order, are from:
Connie (Constance/Chippy) Westbrook nee Bradshaw born 1924
Peggy Reynolds nee Mills born in 1922
Arabelle Welch nee Lee born in 1929
Pamela Elizabeth Debenham nee Knight born in 1921
Roger Bennett born in 1935 sent me his recollections from his home in Spain.
I have also attached the following extracts:
Down My Way – shared memories of my life in Aldingbourne by Bertha Watson nee Collins born in 1921 Chapter 3 The War Years
Memoir of (Margaret) Ann Swarbrick nee Robinson born in 1929 entitled Captain J.H. Robinson of Eastergate
William Chandler's Scrapbook 1949 held at WSRO ref: AM361/1
Around Aldingbourne by Cliff Mewett and Vivienne Salmon 2006 Chapter 24 The Second World War
It is not surprising that there are many memories of soldiers stationed in the villages given our close proximity to the English Channel. Numerous airfields sprang up in West Sussex, the most important being Tangmere and Ford, both of which were bombed with tragic results – 16th August 1940 Tangmere attacked, 13 killed; 18th August 1940 Fleet Air Arm at Ford attacked, 39 killed. First to come were the Canadians and later the Americans. However, 20 year old Pamela Knight met her future husband from the Pembrokeshire Yeomanry at a postbox in Eastergate and in the early years of the war, the Surrey Regiment was billeted at Eastergate Hall according to Mewett and Salmon. 
Soldiers were billeted in various houses in the villages: Westergate Woods House in Level Mare Lane had been bought by the Tatton-Brown family before the outbreak of war but they had not moved in. This was ideal for the Canadians who, finding no electricity, laid a large cable through the grounds to the house. The smaller Westergate House opposite the Irene Garage (now Esso petrol station) was also used as was the Railway Hotel in Barnham, and the two houses by the railway line where, feeling the cold, the soldiers made use of the coal yard in what is now the station car park. Avisford Park was also commissioned and dances were held there in the ballroom. Canadian George G Blackburn in his book Where the hell are the guns? (published by McClelland & Stewart 1997) states 'No one in 4th Field is sorry to leave the tents of Green Street on August 14 [1942] to move into requisitioned buildings along country lanes and villages about two and a half miles (sic) north of Bognor Regis, though batteries are widely disbursed. RHQ is in a noble country mansion called Westergate Wood House; 2nd and 14th Batteries are at Walberton; and 26th Battery is some two miles away, centred on Barnham Junction, with more than a mile separating its troops.' Later he refers to the front hall of Westergate Wood House, 'noticeably shabby from years of suffering hob-nailed booted occupants'. 
Both the Canadians and the Americans used the village halls for entertainment and the small hall next to the Railway Hotel was a popular venue for dances. There were fundraising dances and charity auctions to raise money for the Women's Auxiliary Volunteer Service and for Mrs Stacey's tea van (according to George G Blackburn). Harry Dart in his memoir tells of two ladies at Luccombe Cottage opening "a little teas and refreshments room that was much appreciated by the troops stationed in the village…"  
But it wasn't all fun – Blackburn recalls gun battery duty at Ford on Christmas Day and Brian O'Gorman remembers seeing the Americans running up and down Barnham Road in their white tee-shirts and smart slacks and on D-Day they had all disappeared along with the line of lorries and tanks that had accumulated under the trees in that road…
The Home Guard features in people's memories as these 'soldiers' were drawn from the villages and were known to all – dads, grandads, youngsters and those not called up for medical reasons or because they were essential workers in reserved occupations. Photographs below show the Home Guard and also the Auxiliary Fire Service. I have a few handwritten notes identifying some of the men in the photographs; if anyone thinks their relative is pictured, please get in touch via the parish council. Stories abound about the lack of equipment (David Gillbard tells how his father was given a rifle and his tractor driver was given the ammunition) but they took their duties very seriously and would have been counted on if the Germans had invaded as expected along the south coast.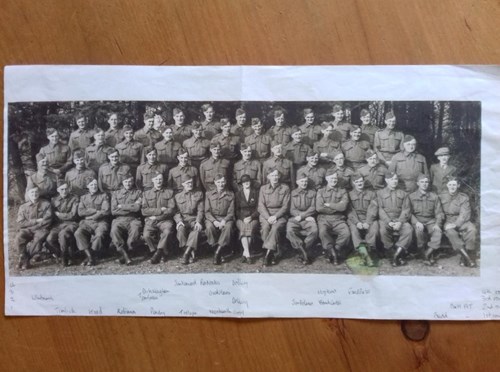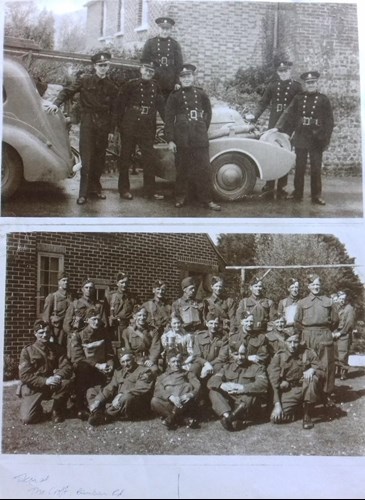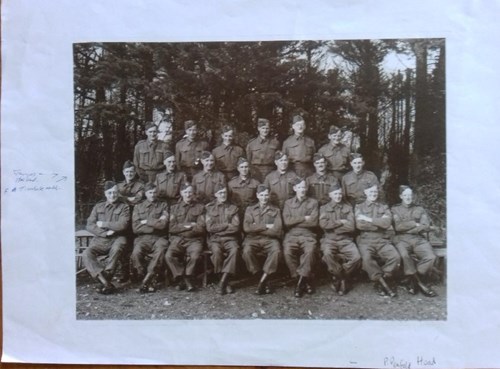 Some memories come from villagers who were still children during the war. What an adventure it must have been for them, unable to comprehend the seriousness of the war but able to identify every plane that flew over, both ours and Gerry's! One such lad was Arthur Timlick whose father, Frank, was the local cobbler at Barnham shops (see the section Barnham Road shops northside). In 1944 when the Home Guard was disbanded Arthur was 14 years old. He had been a 'runner' for the Guard that met at Eastergate village hall and held manoeuvres along the old canal. The photograph below also shows Mrs Harvey, the secretary. 
Youngsters were kept busy collecting for the war effort. Arthur Timlick has a cardboard medal for collecting 250 books for soldiers. David Gillbard collected waste paper and acorns (to feed pigs). The Women's Institute were well-known across the country for organising collections of rose hips for their vitamin C content.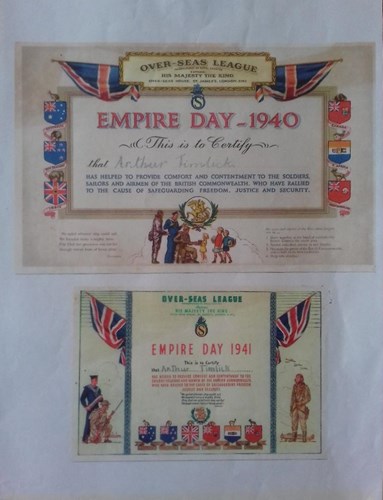 The war saw changes in local employment not only because many men were called up and women took over in their absence. Local nurseries such as Barnham and Croftway Nurseries had expanded pre-war growing and supplying everything from market gardening to landscape gardening. During the war the nurseries turned to food production and the earlier business never fully recovered once the war had ended. Barnham Market was once the largest in Sussex but rationing and government-fixed prices plus refrigerated road transport saw a decline that was never reversed; the market closed in January 1949. Penfolds transport division was restricted to local deliveries as long haulage was nationalised. Labour was in short supply and the sons were all called up. However, the firm did return to some local steam threshing and supplied concrete for the Mulberry harbours.
Italian and German prisoners of war, held at Slindon and in other camps, were used as farm labourers. Polly Edwards (nee Harris) remembers taking a jug of tea to these men at Barnham Court Farm where her father Charlie worked:
She recalls that they spoke little English; the one middle back had such thin arms that she thought they would break and the young man front left was kind and smiley and sat her on his lap.
The Silver Queen busses were well known in the area and a familiar sight (see the section on the Walling family). Mewett and Salmon include the following in their booklet:
The Silver Queen's wartime duties were varied and many, during the early days when invasion was expected the two vehicles and drivers were stationed each night at the Eastergate Hall where the men of the Surrey Regiment were billeted. They were partly responsible for defending the coastline between Littlehampton and Selsey and on more than one occasion were called out on false alarms. Other duties included conveying sailors from Portsmouth Dockyard to Plymouth and various trips required by R.A.F. Tangmere. On two occasions Silver Queens were attacked by enemy forces. The first incident occurred whilst two of them were travelling to Bognor Regis. The first bus safely negotiated the then Shripney Bridge whilst the second stopped to let off a passenger only to witness the bridge being blown, in Cecil's words '50 to 60ft in the air' by a marauding German bomber. This vehicle was believed to be the Dornier 219 which shortly afterwards crashed into the Shripney gasholder. On the second occasion a Silver Queen bus was hit by machinegun bullets on Bognor Regis seafront but managed to escape without further damage. The personnel of R.A.F. Tangmere were regular off duty users of the service. The last bus, to quote the words of driver Bert Powell, "often had more passengers standing than sitting down".
The village war memorials would indicate that fewer men were lost in this war than the previous one. In Barnham only one name is listed:
Private Edward John Tompkins Royal Army Medical Corps service number 7401639 died on 23rd January 1944 aged 27 buried at Anzio War Cemetery, son of Arthur Herbert and Emily Alice Tompkins of Barnham. There is a plaque in St Mary's Church in memorial.
The Eastergate Lion Memorial has more names but this may be because the parish had expanded over the previous 30/40 years:
Elwood Bolton
John Boulton
John Cutts
Cecil Davis
Robert Daniels
William Hammond
Victor May
James Ross (name not yet added to the memorial)
Arthur Simmonds
More details of the fallen may be added to this section in due course.
Finally (but never the end), this poem, by evacuee Roger Goodred, was exhibited at the Barnham and Eastergate Past and Present Millennium exhibition:
Barnham
The best years of my life begun
Strange to say in 41
Portsmouth born a year before
I had never heard of war


Not for me to save the nation
Barnham was my destination
On the train my Mum and me
'War child' and 'Evacuee'
Barnham Junction off we get
Mum and me our hosts we met
Home we went by horse and cart
A train, a horse, a lovely start
Home a little country farm
Far away from Hitler's harm
Chickens, pigs, a little stream
A wonderland, a childhood dream
There we whiled the War away
Mum at work, me at play
Nothing in the world seemed bad
What a lovely war I had
Wars like dreams come to an end
Goodbye Barnham, dear old friend
Mum and me back on the train
Back to Pompey once again
Winnie Poulton, Roger too
Farmer Russell, friends I knew
But what of Dad, I hear you say
I think of him each Poppy Day
Sandra Lowton
May 2020