Bognor Water Company Pumping Station, Fontwell AvenueThe expansion of Bognor as a seaside resort prompted the formation in 1874 of Bognor Water Company by local businessmen. Prior to this, water was obtained from wells. There followed the first borehole and the construction of a water tower in London Road which was finally completed in 1879. However, the water proved to be saline and a new source was sought further inland. A story is told locally that William Collins, whose family owned a considerable amount of land in Eastergate and neighbouring parishes, spotting the workmen tap into a meagre supply of water, announced that his gravel pit field had plenty of water. He was right and his field was bought by the Water Company for £100. This was in 1893 and within two years the pumping station was opened at a cost of £10,000.
Initially, a wooden structure was erected but the venture proved so successful that it was soon replaced with a more permanent building and opened by local dignitaries. At the same time a reservoir was built next to the Ball's Hut Inn.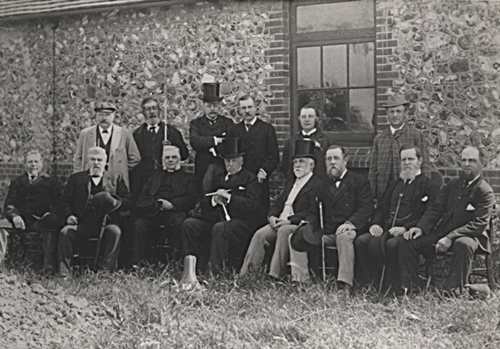 (Photograph – WSRO Grard Young Collection ref: GY/PH 2020)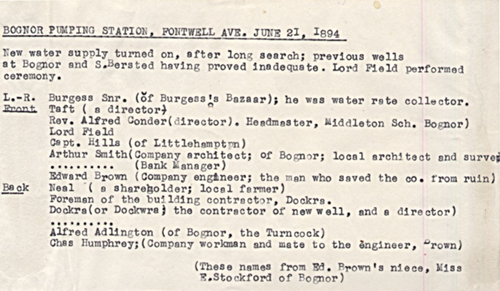 (Photograph – WSRO Grard Young Collection ref: GY/PH 2020)
In 1912 Edward Brown, the chief engineer handed over to Frank Martin, a fully qualified engineer from London. One of his first jobs was to deal with the flooding of Eastergate village caused by excessive pressure at times of heavy rainfall.
A large lead plug was cast on site, which could be raised or lowered by degrees according to seasonal supply and demand. Although the pumping station has since been rebuilt and the system has been modernised, in times of heavy rainfall water finds its way up from the ground and recently  Wandleys Lane opposite was closed for weeks due to a spring gushing water at its junction with Fontwell Avenue. I am told that at first this water was collected but later it was found to be impure and was allowed to flow down nearby drains.
In 1922 Martin reported that a racecourse was to be opened nearby and he had doubts about the ability to supply water for the needs of such a large crowd and horses.  His solution was to erect a cast iron syphon pipe rising to 30 feet above the reservoir next to the Ball's Hut Inn at Fontwell. A petrol driven booster pump raised the water level to well above the racecourse on race days.
At the start of his career with the Water Company, Martin was issued with a bicycle. In 1923 he was provided with a brand-new bull-nosed Morris Cowley car. Each month he submitted a hand-written report to the board until, in March 1925, he requested a type-writer. This he was allowed to purchase at a cost of 10 guineas. His office was at the water tower in Bognor and he lived in a house adjacent to it until 1928 when he moved to Fontwell. Frank Martin was to remain Chief Engineer until 1929 when Bognor Urban District Council took over the Water Company. He would stay with the council for a further 5 years but subordinate to the Chief Surveyor. The year the water tower was demolished was the year Frank Martin left the company – 1934.
Frank Martin would not recognise the pumping station today. The building and means of pumping have been replaced but the Eastergate pumping station is still supplying water for the area. It is now run by Portsmouth Water – see their website www.portsmouthwater.co.uk for further information.
See also Bognor/Chichester Observer March 31st 1988 'A Plug Stemmed the Water Supply' by Russell F. Burstow.
Sandra Lowton
March 2017
View further images by going to our Flickr account.