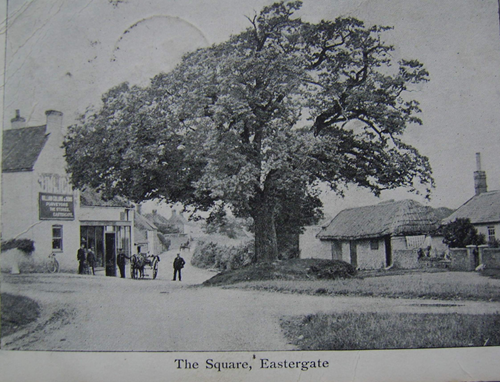 Elm Tree Stores, The Square, Eastergate and the original elm tree (This postcard, contributed by Arthur Timlick)
This postcard, contributed by Arthur Timlick, shows Elm Tree Stores to the left and the elm tree that was destroyed by Dutch Elm disease.  The buildings in the background and to the right are in Aldingbourne parish.  The sign on the wall of the shop says: WILLIAM COLLINS & SONS PURVEYORS ELM TREE STORES, THE SQUARE EASTERGATE. The postman is Alfred Hoare and the photograph was taken c.1900.
William Collins bought the stores from his older sister, Mary Biffin in 1889.  Formally known as "The Smith's Shop", the history of the store has been researched by the late Frederick Collins, great nephew of William, and can be found in the Collins Archives deposited at WSRO Accession No. 15683 and 15694. 
The Collins family tree, compiled by Frederick Collins and extended by Simon Collins, can be found on the Collins family website.
William Collins (1844-1935) is perhaps the most pertinent member of the Collins family in recent times to be associated with the village of Eastergate.
The Collins family was a large one: William was one of 12 siblings born between 1837 and 1859, and his father, Henry, was one of 14 born between 1800 and 1825. At that time many people stayed close to where they were born and it is not surprising that there is a link between the neighbouring parishes where we find Richard Collins (1851-1937), churchwarden, living at Parsonage Farmhouse in Barnham and Dr John Boniface Collins GP (1869-1953), at The Pines, Barnham Road (the Barnham GP).
William Collins was born at Decoy Farm, Oving but he spent much of his life at Flint House, Church Lane, Eastergate.   The brothers, William and Richard, married the Boniface sisters of Byworth, Harriett and Fanny, at a joint wedding at Petworth Church on 21st September 1875, linking the family to that of the Sussex Bonifaces. William and Harriett had seven children.
William was a farmer, grocer, butcher, postmaster and businessman.  The bakery to the rear of Flint House provided bread et cetera to the store and many daily necessities could be bought including coal.
William built a harness making and repair shop in Barnham Road on land that he owned.  The shop was run by Bill Walling. He also allowed his field behind the saddlers to be used as a cricket field, as it is used to this day.  A story is told locally that William Collins, whose family owned a considerable amount of land in Eastergate and neighbouring parishes, spotting the workmen tap into a meagre supply of water in Fontwell Avenue, announced that his gravel pit field had plenty of water.  He was right and his field was bought by the Bognor Water Company for £100 and still supplies Bognor Regis today.
However, it is his work in the community for which William will be chiefly remembered.  From 1875 to 1930 he served as warden of St George's Church.  He was overseer of the poor from 1894 to1902.  At the first Eastergate parish meeting on 4th December 1894 he was elected chairman and held that position without a break for 34 years.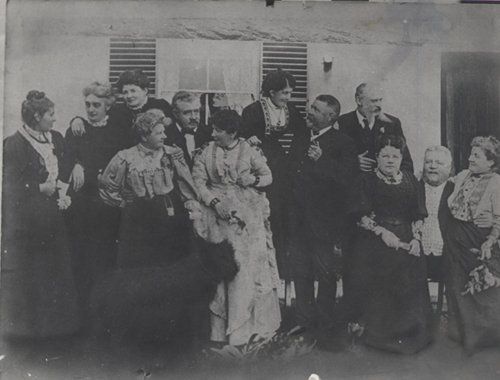 Collins Family: Siblings and in-laws – From L-R: Fanny (nee Boniface, wife of Richard); Nell (nee Wiltshire, wife of Frank); Caroline, known as Carrie (b.1838); Jane Smith, known as Jinnie, nee Collins (b.1847); Frank (b.1838); Kate Wells, nee Collins (b.1855); Helen, known as Nell (b.1857); Richard (b.1851); George Smith; Fanny Murrell, nee Collins (b.1849); William (b.1844); Finch Manning, known as Fin, nee Collins (b.1859) (Courtesy of the Collins Family)
The legacy of public service passed to William's granddaughter Bertha Watson, nee Collins, who served on the Aldingbourne parish council for many years.  She also collected many photographs and documents over the years and these have now been deposited at the West Sussex Record Office. Her book 'Down My Way, shared memories of my life in Aldingbourne' is available from The Parish Office, The Church in the Marketplace, Barnham.
With thanks to the family members, Simon Collins, Rosemary Collins and Vicky Griffin.
To view images of the family and the store Right Click of your mouse to open Flickr link in new page
Sandra Lowton
May 2016