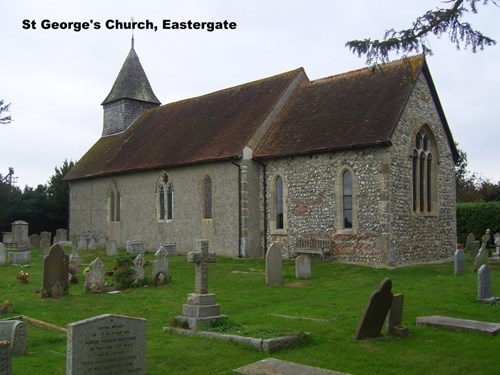 The church, which is Grade II listed, has an interesting array of windows including: a small Saxon window, two 13thcentury lancet windows, the Arundel window of 1360 showing the arms of the Fitzalan family, the east window in memory of Earl Kitchener, a memorial to the victims of the Great War, and a window of St Wilfrid with the dedication: To the Glory of God in loving memory of William Dennis Yoward for twenty years rector of Eastergate AD 1906-1926.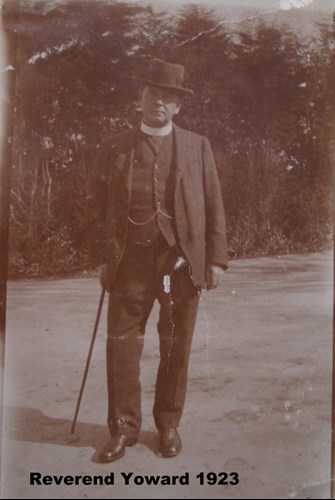 Reverend William Dennis Yoward was a popular rector who moved from Middleton where he had spent eleven years and was known, amongst other things, for his conjuring tricks and for his enthusiasm for the early motorcar.  He owned the first in the parish and even addressed his parishioners at an open-air service standing on top of his car.  He was also partly responsible for financing the Eastergate Village Hall (see separate entry) and served on so many local committees that, at his funeral, two-thirds of the church was taken up with representatives of these County bodies. 
Four Generations of the Knight Family at Eastergate:
Harry Knight (1858-1911)
Publican: For the opening of Barnham Junction station in June 1864, the Barnham Bridge Inn was enlarged at a cost of £500 and renamed The Railway Hotel. In the 1901 census, Harry Knight is listed as a coal merchant and licensee of the hotel. He was 43 years old and lived with his wife Sarah (1861-1927), and three sons, Percy 11, Charlie 9, and Frank aged 2. Also living at the hotel were Hilda Martin an 18 year old barmaid and Emily Holden a 22 year old domestic servant. In an invoice of 1902 Harry Knight, publican, is described as 'Wine, Spirit & Coal Merchant, Agent by appointment to the London, Brighton & South Coast Railway Co.'and providing a funeral car, pair of horses and two carriages for the funeral in Pagham of a Mr G Gadd of Westergate. See separate entry for the history of the hotel.
Rose Cottages, Barnham Road
The current owner of number 2 Rose Cottages has two deeds of conveyance, one dated 1896 between George Henty & Sons Ltd (of the first part), Richard Biddulph Martin and Charles Percival Henty (of the second part) and Harry Knight(of the third part), and the second dated 24thFebruary 1905 between Charles Stride and Harry Knight. They are difficult to understand but they support the view that the cottages were connected to the inn.  The cottages were originally for railway workers and were built within the grounds of the inn. The 1910 Inland Revenue 'Domesday Book' also lists Rose Cottages as 4 let cottages owned by Harry Knight. Harry Knight died in 1911 aged 53 and the cottages passed to his heirs.
Property Developer: By the turn of the century Barnham was expanding rapidly; nurseries had sprung up, taking advantage of the rail link to Covent Garden in London; Barnham livestock market had opened; and shops, banks, coal and grain merchants followed. The inn had become a hotel and the decision was finally made to demolish and rebuild. When it reopened in 1907 the landlord of the new hotel was Albert Coe.
Harry Dart in his memoir tells us that between 1902 and 1905 his father, William Henry Dart, a local builder, worked for Harry Knight building two blocks of four cottages, Fishbourne and Tisted cottages on land that Knight had bought in Elm Grove. These were very different from the detached houses favoured by Sidney Marshall being workers' cottages for rent and not for sale. In 1910 the Inland Revenue also lists Harry Knight as the owner of Elm Lodge and Broad Oak in Barnham Road which he was letting while he was living at Bentworth (now modern flats). It would appear that Harry Knight the publican saw an opportunity towards the end of the 19thcentury in up and coming Barnham to branch out into property development and make, if not his fortune, then certainly a comfortable living. He was elected to Westhampnett Rural Council, served on the Highways Committee, and was the representative for Eastergate on the Board of Guardians which dealt with payments to and accommodation for the poor.
Harry (1887-1889), Percy (1889-1910) and Charlie (1891-1932) Knight
Harry and Sarah had four sons. Harry died in infancy; Percy died aged just 20; and Charlie died in a shooting accident. He lived in Canterbury and was unmarried.
Frank William Knight (1898-1945)
It was the fourth son, Frank, aged only 13 when his father died, who continued to live in Eastergate and carried on the family name. In memory of his parents he had the lych-gate erected at St George's Church.
Frank married Florence Evelyn Byerley (1896-1970) and had one daughter, Pamela Elizabeth, in 1921. The family ran Warwick Nursery in Eastergate (now housing) and, following Frank's death on 27th December 1945, Florence arranged for electricity to be installed in the church in his memory.
The following is an extract from an interview in March 2014 with Pamela Debenham (nee Knight), focussing mainly on the period of the Second World War:
Pamela was born in Church Lane, Eastergate, opposite the church and next to Eastergate House in a single storey cottage called 'Jock's Lodge'. The family ran Warwick Nursery in the centre of the village (now housing). Pamela attended a kindergarten at the far end of Downview Road where she was taught by a French lady. She then went to Courtfield House School in Victoria Drive, Bognor Regis until the age of 12 when she boarded at The Warren in Worthing.  In 1938, the Knight family moved to The Ranch House in Fontwell Avenue which has since been demolished and is now Collins Close, a housing development.
Pamela had just left school and was due to go to Switzerland to finishing school when war was declared. Instead she took a shorthand and typing course with a Miss Blankinsop and went to work for a surveyor, Mr Jenkins, at his house in Barnham Road (Baynards?). His job was to attend any bomb damage in the area and to write a report for the authorities (HQ at WSCC, Chichester?). Pamela also drove the head warden, Mr Cairn-Cross, at night in her own car. Later she worked at her family's nursery where they grew vegetables including potatoes, swede, sprouts, cabbages, and tomatoes in the greenhouses for the duration of the war – daffodils having given way to food production. The produce was mostly sent by train to London but sometimes to Portsmouth. The family owned a cow for milk with the surplus going to their workers. They also had chickens, pigs, rabbits, and butter from their milk.
Several land mines dropped in Eastergate damaging the produce and the villagers were particularly afraid of the Doodlebugs. Pamela's father, Frank Knight, was a Special Constable.
Pamela met her husband, Raymond Frank Debenham, in Eastergate during the war. He was from Milford Haven and joined the Pembrokeshire Yeomanry, becoming a sergeant. She tells me that he wanted to post a letter at a post box at the end of Fontwell Avenue but did not have the correct change to buy a stamp from the stamp machine (that was to be found at many post boxes in those days). She suggested that he came to her house where she would help him with the correct change and this he did. Pamela often helped at the canteen opposite Barnham Station where dances were held and parties took place in the Officers' Mess. She was able to get to know her soldier who drove around in a red sports car. They became engaged on her 21stbirthday in 1942 but had to wait until after the war to marry. When Sergeant Debenham was posted abroad, he was fortunate in that the ship broke down and he spent the remainder of the war safe in Mombassa, Kenya.  Pamela and Raymond married on 30thApril 1946; sadly Frank had died just four months before.
Around 1955, Raymond bought the Greenwood Garage at Fontwell which is described in the Parish News, March 1961: 'Repairs, Car and Cycle Accessories, available from stock – 6 volt car batteries from 57/6 Guaranteed Taxi, Car Hire, Self Drive cars'.
Pamela and Raymond had one daughter, Caroline, (great-granddaughter of Harry Knight) and lived at The Ranch House with Florence until Caroline was 5 years old. The association with St George's Church continued with Caroline's marriage at the church in 1973 to John Procter. The order of service carried a print of the lych-gate that Caroline had sketched. Pamela died on 12thOctober 2018 aged 97. The family continue to own and manage property, some in Barnham village centre.
The Kitchener Memorial Window at St George's
St George's Church, Eastergate, parish website: Parish Website
Compiled by Sandra Lowton
January 2019
For many more images go to our Flickr pages